The first Living Building Challenge Net Zero Energy registered project on Bainbridge Island nears completion.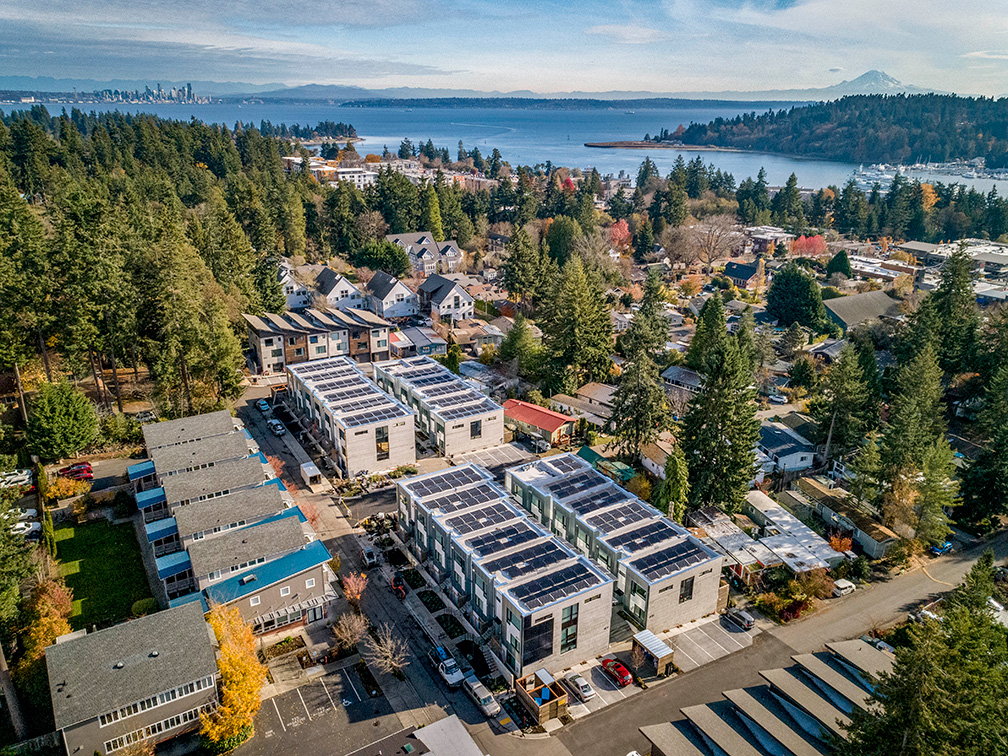 The Walk is a 38-unit townhome rental project in the heart of Winslow. With solar panels on roofs and canopies, the buildings are designed to provide more renewable energy than they use. An additional 14 units are for sale and are built to be solar-ready. Taking things a step further, the project is designed to reduce fossil fuel use from automobiles. Some of the solar panels provide energy to electric car chargers throughout the project and additional chargers will be added as demand increases.
Even cooler – The Walk has partnered with car-sharing company, Envoy, to provide an electric car for residents to drive should they wish to venture outside Winslow. The car has a range of 200 miles and can be used for hourly, day-long or even weekend trips. Providing a car share option makes in-town living without a car easy, comfortable and cost effective.
The Walk combines comfortable, convenient living in a walkable, urban location in the heart of Winslow on Bainbridge Island. Literally steps from town, and tucked away in a quiet neighborhood, the project is one block from the Farmer's Market, the grocery store, a movie theater and restaurants – all the urban amenities Winslow has to offer just a short commute from downtown Seattle.
• large, comfortably sized homes with 1, 2 or 3 bedrooms;
• solar powered buildings and electric car charging;
• electric car share
• healthy and sustainable materials;
• accessible and affordable options;
• community garden beds and outdoor living space.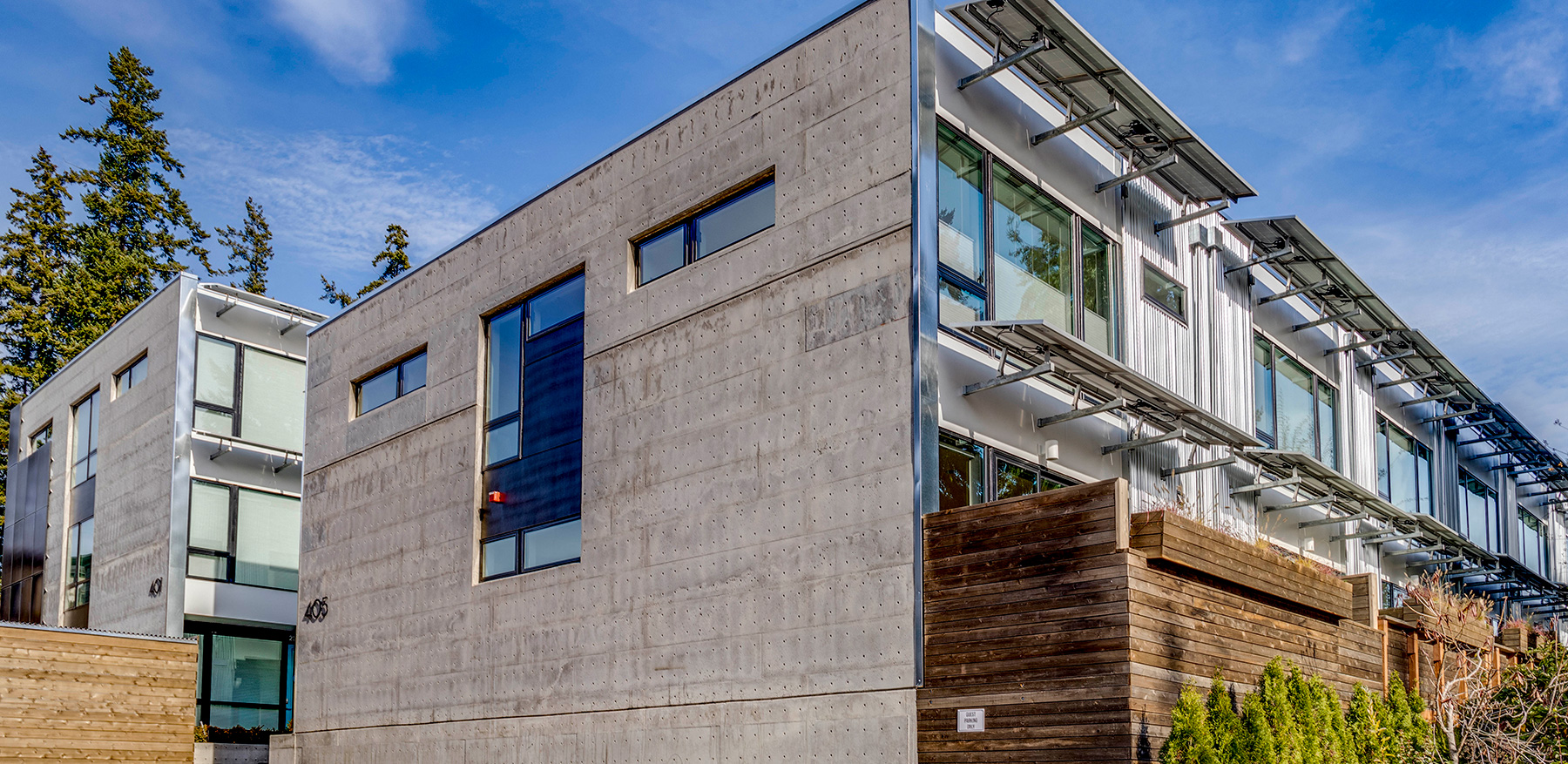 The Walk is the first multifamily project on Bainbridge Island to be registered as a Living Building Zero Energy Project. Zero Energy is a certification of the International Living Future Institute. A performance-based program requiring 12-months performance to earn the certification, this is one of the most prestigious sustainable building certifications available globally. Topped by solar, the buildings at The Walk will produce their own power, in some cases producing more energy than they use over a year. With energy efficient design and airtight building envelopes, high quality fiberglass windows and efficient mechanical systems, the homes are spacious, healthy and comfortable.
This project will be the first on the island to include both permanently affordable workforce housing and sustainable, zero energy design. The project includes 5-permanent workforce-affordable homes available to qualified tenants. These units will be rented at below market rates and all utilities with the exception of water bills will be included in the rent. With little or no electricity bill and access to a car share program, all tenants at The Walk will be able to reduce their overall cost of living substantially while living healthier and fossil-fuel free.
LOCAL PROJECT TEAM:
Architect:    Davis Studio Architecture + Design
Indigo Architecture + Interiors
Contractor: Clark Construction, LLC
Solar: Cascadia Solar
Lender: Kitsap Bank
Developer: Urban Orange
Landscape Architect: Fischer Bouma
Civil Engineer: Browne Wheeler
Structural Engineer: NL Olsen