Solar Goes Live at The Walk and Wins!
The Walk is to date the largest privately developed multifamily rental project to register for Zero Energy certification through the International Living Future Institute.  Each home at The Walk is designed to be Net Zero energy and comes with enough solar to meet its energy needs.  Electricity bills are reduced significantly or almost entirely, depending on how much energy a resident uses.  If you like numbers, the total solar is 208,000 watts of panels which will produce approximately one quarter million kilowatt hours of AC electricity annually. If you want a really big number that is 250 million watts of energy produced.  These numbers are equivalent to saving over 2.5 tons of coal per home, and community wide replacing over 80 tons of coal per year.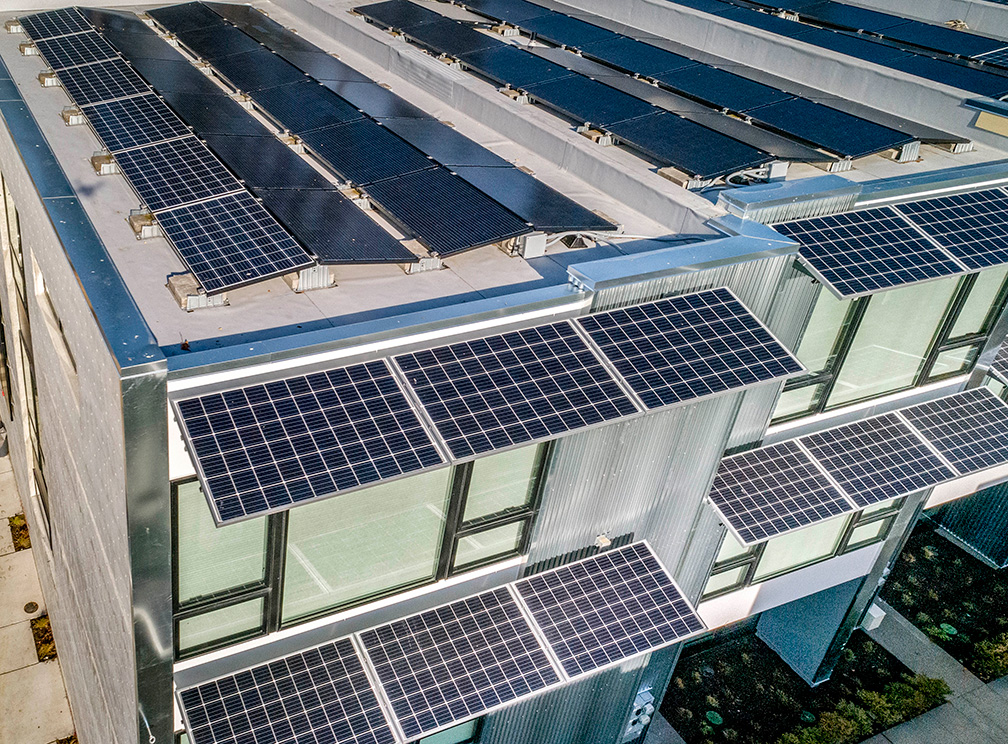 Electric car charging stations are installed throughout the parking areas in The Walk with the capacity to charge up to 8 cars at a time.  72 solar panels, producing approx. 20,000 watts is set aside for powering the car charging stations.  Chargers are free for use by residents encouraging the use of electric cars thus further reducing a residents impact on the planet and eliminating unnecessary expenses.
The Walk was recently honored with the prestigious APsystems residential project of the year award, and recognized as a leader in the solar industry – see details below.
Hats off to Cascade Solar who designed and installed the system and BlueFrog Solar who supplied the equipment.
---
The Walk Wins National Solar Award
APsystems, March 2020 – In the past five years, residential solar has found mainstream acceptance; developers of alternative energy-based communities are blossoming, and driving solar energy into a vibrant new phase as 2020 begins. The Walk—a progressive residential community on Bainbridge Island, in Washington State—is a case study that deftly illustrates this trend, and its outlook as we enter this new decade.  This years APsystems Project of the Year Award honored Washington's Cascadia Solar for their contribution to The Walk.  To help power The Walk as a Zero Energy community, Cascadia installed solar on roofs, awnings and even the vertical end-walls.  Click here for full story.